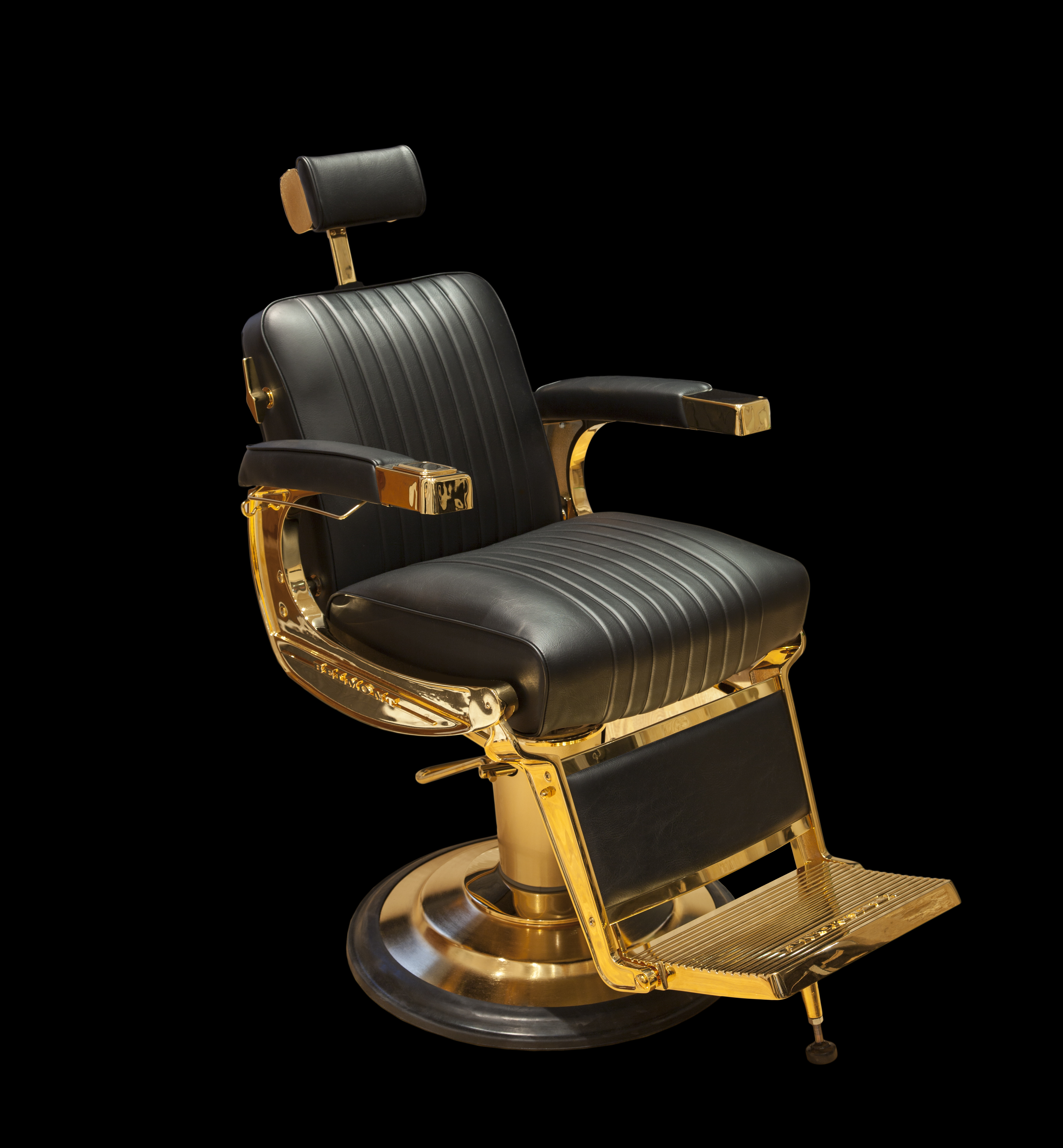 Where do you turn when you want a completely custom 24k gold set of barber's clippers, a gold barbershop chair and a gold-plated head…There really is only one company in the world that can accommodate such an extensive and complex order. Since 1995, Goldgenie has been developing amazing golden works of art out of everyday objects. Phones, computers, laptops, even shoes, bicycles and rocking horses are among their stunning creations. This latest commission is perhaps one of their most ambitious yet.
Interdisciplinary artist Faisal Abdu'Allah was commissioned by London-based arts charity Autograph ABP to create The Barbers' Chair and The Barbers' Clippers (2017) as a gallery installation, under the curatorial direction of Mark Sealy MBE. As is his modus operandi, Abdu'Allah likes to experiment with a variety of forms, themes and mediums of expression. Best known for such works as Head of State (1997) and The Last Supper I and II (1994), Abdu'Allah has now taken it upon himself to represent the importance of barbershop culture particularly to the lives of black men—he himself still a practicing barber. Having won numerous awards and grants that include: the Joan Mitchell Foundation Painters and Sculptors grant and the Mayor of London Award for Sustainability, Abdu'Allah's joint endeavor with Goldgenie stands to be one of his most talked about yet.
As for Goldgenie, they are honored to be a part of this significant cultural project. Then again, they are quite used to coming up with new and extraordinary ways to showcase their gold plating and artisan skills. Since founder Laban Roomes' appearance on the popular BBC show Dragons' Den, Goldgenie's global presence and fame has skyrocketed. Their services are regularly utilized by celebrities to include the Beckhams and Denzel Washington, as well as by blue chip companies and foreign heads of state. The world just can't seem to get enough of Goldgenie.
Laban Roomes, when asked about the barbershop project, didn't seem the least bit concerned about his team's ability to deliver superior results: "This is what we do—we bring beautiful gold objects to places that you wouldn't otherwise expect. No one offers our level of customization and no one can produce the kinds of gold pieces that we can."
In working on Abdu'Allah's 24k gold clippers, chair and gold-plated head, the Goldgenie crew is confident that people will really come to understand that theirs is not just a company which delivers gold iPhones or tablets, but they are a company that genuinely brings such objects to life in an artistic sense. "Our master craftsmen," Roomes explains, "have spent years training, sharpening and perfecting their art. They truly take pride in the items they produce." Between Abdu'Allah's unique form of artistic and cultural expression and Goldgenie's quest to create golden perfection, many are eagerly anticipating The Barber's Chair and The Barber's Clippers.
The Barbers' Chair and The Barbers' Clippers (2017) will be available as a limited edition of three, and two artist proofs.
These sculptural art objects will be premiered in the exhibition Faisal Abdu'Allah – The Duppy Conqueror & Other Works on show at Autograph ABP from Friday 15 December 2017 until Saturday 14 April 2018.
Autograph ABP is a charity that works internationally in photography and film, cultural identity, race, representation and human rights.
www.autograph-abp.co.uk
Contact
press@goldgenie.com
+44 2088046200
Goldgenie.com