Goldgenie specialise in luxury customised gifts and present an alluring array of solutions to Christmas gift-hunters this season.  Amongst those is the DNA Limited Edition Watch Collection.  Crafted from ceramic, cubic zirconias and stainless steel embellished in a choice of 24K Gold, Rose Gold or Platinum, this Swiss made collection boasts creative options to ensure each watch will be as unique and irreplaceable as their wearer.
The range consists of 7 limited edition designs and no more than 100 of each design will ever be produced. Each watch case is laser engraved on the back with a number that will be unique to the owner and Goldgenie can offer further personal customisation by laser engraving a name on the watch face, adding to its unique value and making it a one of a kind gift to be remembered and cherished.
The Zen boasts an elegant tachymeter bezel and three recorders for measuring speed on a white dial. The face also includes the date and the time is displayed in minimalist gold divisions. A perforated crown and two ridged pushbuttons offer contrast to the polished bezel and the solid flat links of the bracelet add weight to this stately masculine piece.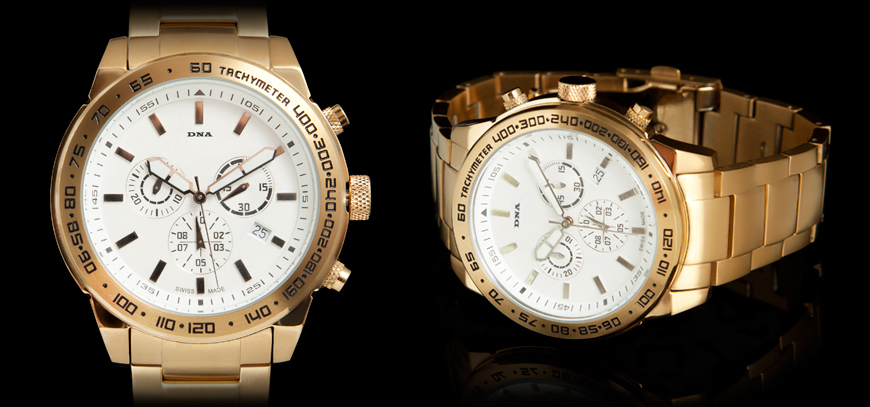 The Carrington is a classic men's watch comprising of a woven effect multi-linked bracelet and a clean circular dial, which features the date and minimalist silver hands and divisions. The contrast in textures is unique and results in a genteel statement of understated elegance.
The Krystal is a classic ladies' watch, featuring a rectangular face and a crocodile embossed topstitched calf-leather strap. The gold bezel is embellished with 12 rectangular cubic zirconias and is an expression of refinement and elegance.
The Krystal Sun is a very feminine timepiece and the definition of classic elegance. The rectangular face is framed with 12 rectangular cubic zirconias and the linked bracelet is a stunning contrast in textures combining ridged and polished links.
The Pearl is a beautiful ladies' watch and a modern statement for modern times. Featuring clean lines in a white ceramic and gold link bracelet, the round white face shows the time in minimalist silver divisions and is framed in a smooth polished bezel.
The Oyster is an elegant ladies' watch in modern lines of white ceramic and warm gold tones. The white bezel features gold Roman numerals and divisions and silver hands mark the time.
Each piece from the collection is sold with a 5 Year unlimited guarantee on the specialist Swiss movement technology and is sure to stand the test of time. The watches make a timeless personal statement or a unique gift. All watches are beautifully presented in an exclusive custom piano box that includes two matching 24K Gold pens and a luxury quality leather pouch to compliment the DNA. Goldgenie believe each individual should make their own mark on the hands of time and a DNA watch serves as great and timely reminder of this sentiment.
For further information, please contact the Goldgenie Press Office:
Email: [email protected]
Telephone: +44 208 804 6200