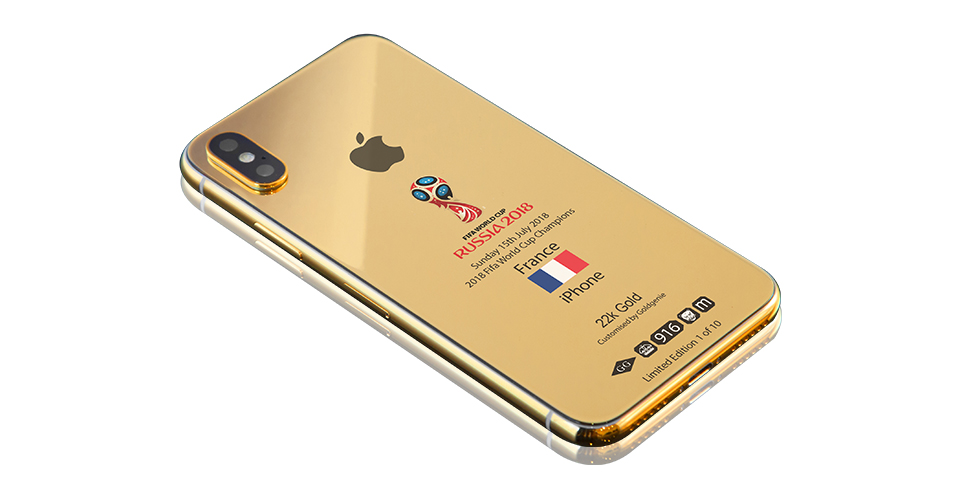 To commemorate France winning the World Cup in Moscow for the second time, luxury customisation brand Goldgenie has created a Limited Edition Gold iPhone X incorporating a precision engineered solid 22k Gold back housing to celebrate France as 2018 World Cup champions.
The luxury smartphone is limited to just ten pieces, each displaying a laser engraved 22k Gold Hallmark from the London Assay office as part of the design. Other attributes are that the limited edition iPhone X Ultima can be used on any network throughout the world and is presented in a cherry oak luxury custom presentation case complete with a life time warranty. It is priced from £9,997.00 and are uniquely engraved with the champions edition number. For those who want the luxury phone without any reference to the world cup can also purchase one exclusively from Goldgenie
France last won the FIFA World Cup on home ground in 1998 when France defeated Brazil 3–0 in the finals to lift the cup for the first time.
Goldgenie founder Laban Roomes commented, "It is an honour for our company to have been involved in creating these outstanding pieces of "smart art" as we like to call our customised iPhone X range, but these pieces are truly exquisite, having a precision engineered solid 22k Gold back and Hallmarked by the London Assay Office, this range of collectibles are key to commemorating France bringing home the World Cup for the second time".
https://www.goldgenie.com/22k-solid-gold-iphone-x-world-cup-2018-france-winners-landing-page
https://www.goldgenie.com/22k-solid-gold-iphone-X-ultima-world-cup-winners-2018-france-limited-edition
+44 0208 804 6200
High res images can be downloaded here.